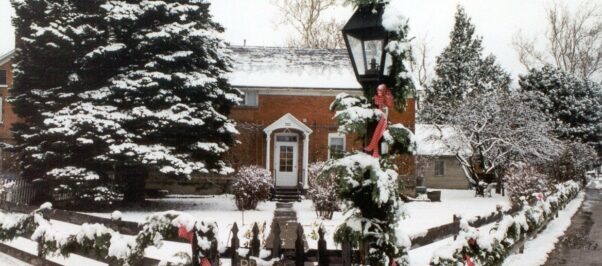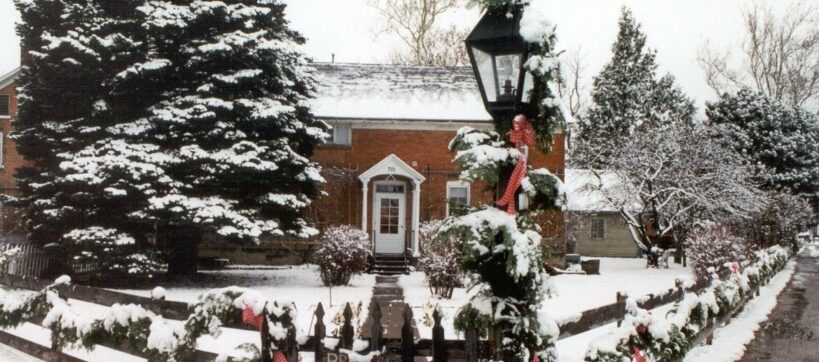 There are some exciting things happening during November and December here in the Colonies, so don't put off the chance to visit yet this year. Here they are:
November 19 Dinner Show with the world's premier Teddy Roosevelt reprisor, Joe Wiegand.  He's performed at the White House and in all 50 states plus internationally. We're lucky to have him here in our little villages. If you like history, this should be very interesting for you.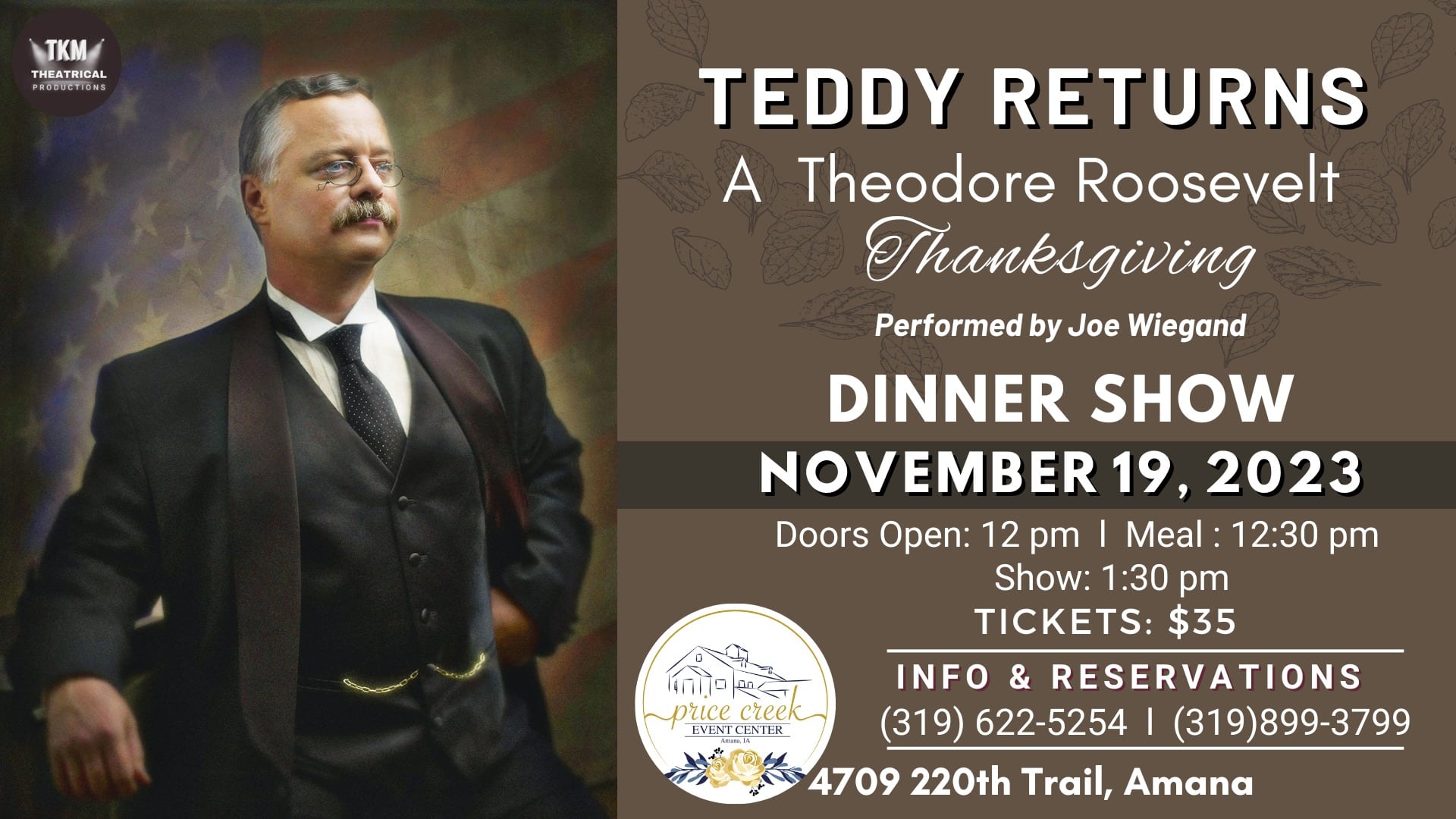 The Church Basement Ladies return (a group from NY this time) with two shows the day after Thanksgiving.
November 24 at 2:00 pm and 7:00 pm.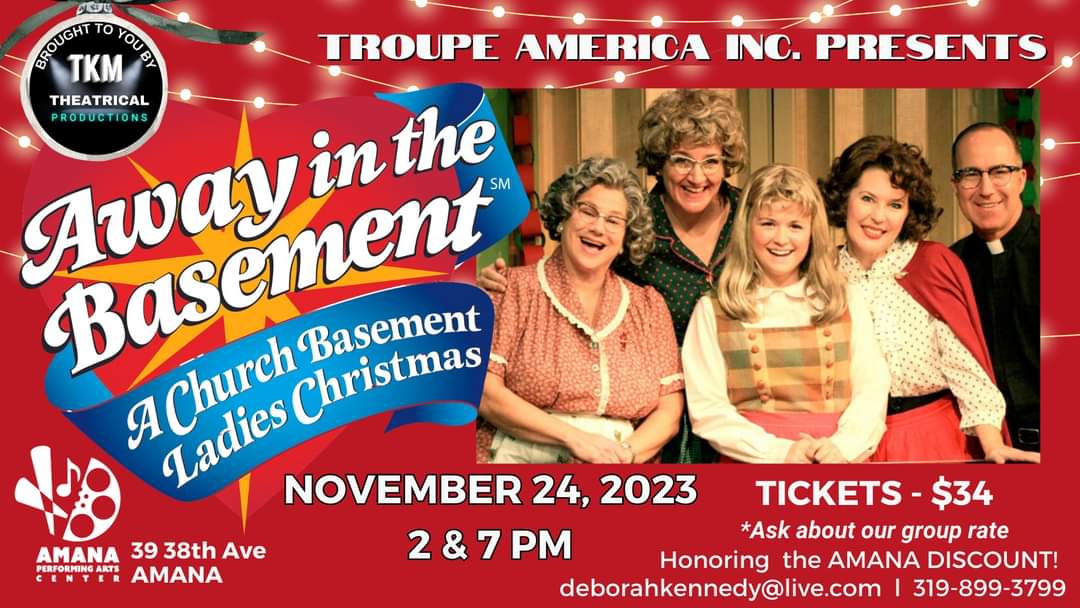 Prelude to Christmas weekend is our biggest holiday festival Dec. 1-3. "It's a Wonderful Life: A Live Radio Play" runs that weekend, three times. It also runs the following weekend, Dec. 8-10, so you'll have plenty of opportunity to see it. Here's a little more information about the show:
Join us at The Amana Performing Arts Center for a magical night of holiday tradition. This beloved American holiday classic comes to captivating life as a live 1940s radio broadcast. With the help of an ensemble that brings a few dozen characters to the stage, the story of idealistic George Bailey unfolds as he considers ending his life one fateful Christmas Eve. Through love and enlightenment, he discovers it's a wonderful life after all.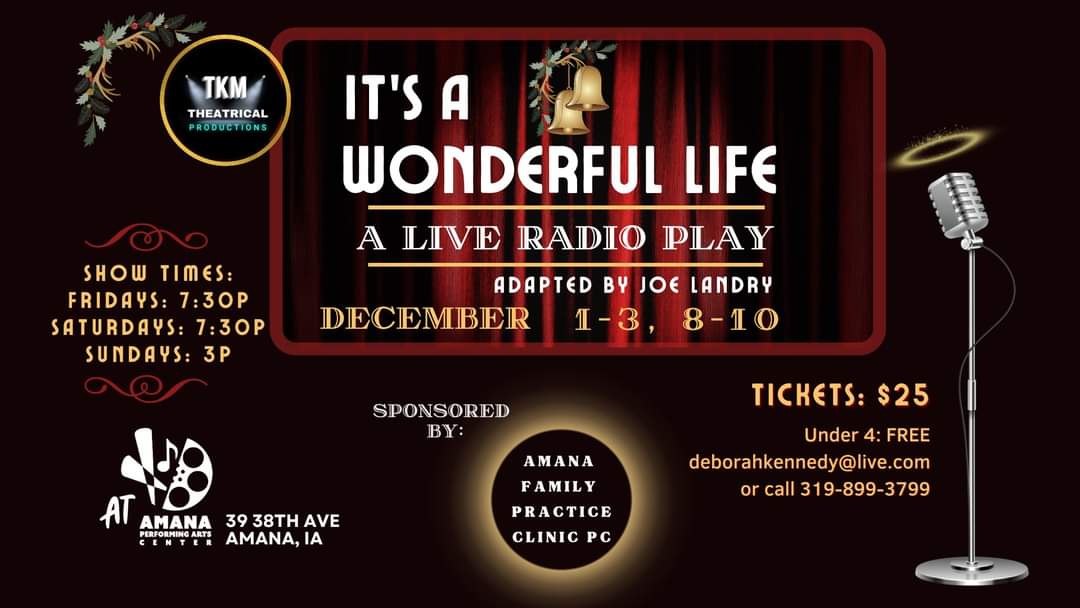 Read the published reviews:
"One of the best holiday shows around. This is a fresh and inventive way of reconnecting with a classic story of love and redemption." Mary Houlihan, Chicago Sun-Times
"A well-loved tale told with style, charm and a heart so big it could burst the ribcage of the harshest Grinch." Kerry Reid, The Chicago Tribune
"A fresh theatrical context that creates just the right kind of retro warmth. If you cry every time you see the movie, you'll be blubbering away right on cue…Guaranteed." Chris Jones, The Chicago Tribune
Plus, the Tannenbaum Forest opens Thanksgiving weekend and is open for 3 weekends in December.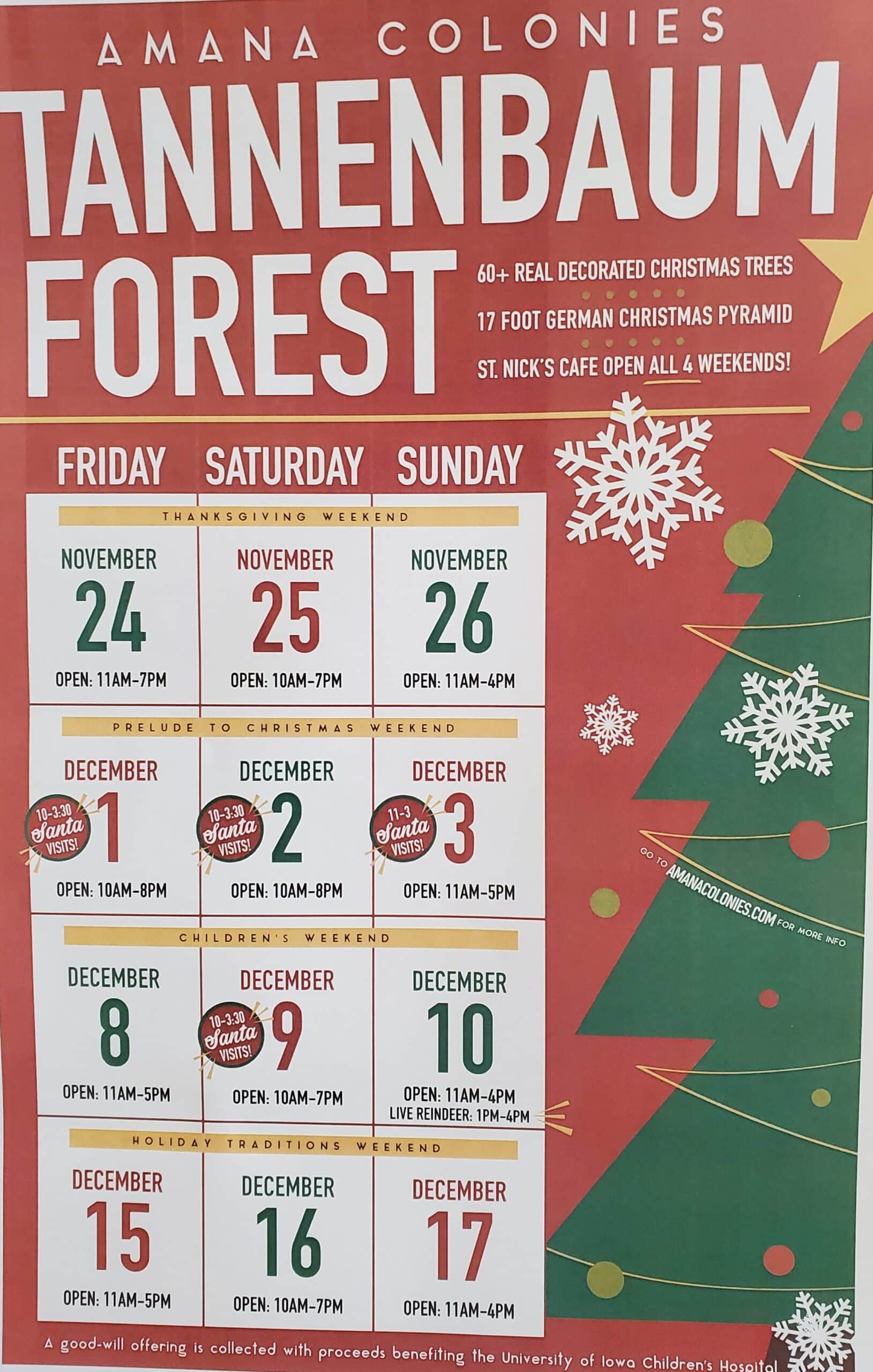 The magic of the Christmas holidays in the Amana Colonies is a truly enchanting experience. Our little villages come alive with festive charm during the winter season. The cozy shops exude a warm and welcoming atmosphere, where you can explore unique gifts, enjoy traditional German cuisine, and partake in time-honored holiday traditions. From the captivating glow of the Tannenbaum Forest with the melodious harmonies of various musicians, Santa and hot chocolate, there's an undeniable sense of nostalgia and community spirit that pervades the Amana Colonies during Christmas. It's a place where old-world customs (ex. 17 foot German Christmas Pyramid in the Festhalle Barn) and modern celebrations seamlessly blend, creating a magical holiday ambiance that warms the hearts of all who visit.
Come, stay with us awhile! Here's what a recent guest had to say:
Oh my! We had a lovely, one-night stay at Die Heimat Inn. We felt at home there. The setting was peaceful and quiet, our room was comfortable and beautifully furnished, and June & Marc were welcoming & interesting hosts. And the BREAKFAST – delicious! We will return for a longer visit.