We really hope you enjoyed our Free Guide – "An Insider's Guide to Visiting the Amana Colonies" and that you're tempted to come see for yourself some of the delights of this unique and special area.
We'd like to invite you to come stay with us, and just for trying us out, we'll have a bottle of one of our favorite local Amana wines in your room, with our compliments.
(Or if you prefer, a bottle of sparkling fruit juice.)
Imagine transporting yourself to our warm common room (in the winter) or to our shady lawn (in summer), sipping your drink and relaxing with your friends or family, while we take care of everything for you.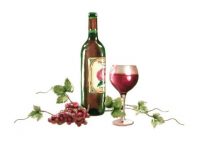 All you need to do to take advantage of our special gift, is to CLICK HERE to book your room, and then put FGSPECIAL in the promo code box on the reservation form, so we'll know it's you and can prepare for your arrival.
"This B&B was just FABULOUS. It felt like being home with all the extras."
See you soon in the Amana Colonies!